Would you like to register with us at this time?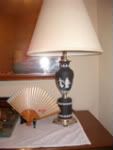 Wedgwood Dancing Hours Lamp
WELCOME TO PENNY'S PANTRY!   Come on in and make yourself at home.  Browse around 24/7 and see what we have to offer antique and collector buffs.  We'll leave the light on for you!  We value your business; so, email us at:  cupenny@tds.net if you have problems making your purchase or if you have questions about our antique and vintage items.



We specialize in AntiqueWedgwood Jasperware and Collectible Wedgwood Jasperware which is well known for its high quality and is treasured by collectors world wide.  We offer a wide selection of Wedgwood Jasperware in a variety of designs and colors, in addition to a few rare pieces of Wedgwood Moonstone, Wedgwood Majolica, Wedgwood Basalt, Wedgwood Commemoratives, Wedgwood Queensware and Wedgwood Dinnerware.



We also have an excellent selection of Collectibles and Vintage Pottery and Glass.  Collectibles include Ceramics, Postcards, Stamps, Vintage Cameras, Utility Insulators and much more.  Pottery and Glass include Carnival Glass, Ceramics, Cut Glass, Pfaltzgraff Pottery, and others. We carry some of the finest vintage brands, such as  Andrea by Sadak,  Anchor Hocking, Indiana Glass Co., Hemingray, Haugrud, Nestle's, Campbells, Kodak, Nikon, Olympus, Pfaltzgraff, Lefton, Daga Hawaii, LimogesUSA, Carnival Glass, Marcrest, Monmouth, and many others.


In our Home and Garden Section you can choose from an assortment of  vintage items to enhance your home--many for less than $5.00 each and many more at just $1.00 each.  Our Home and Garden Section includes Brass Items, Sterling Silver and Silver Plate Items, a variety of Tableware , and much more.  A sampling of these vintage brands are Buenilum, Weller, Schonwald, and Hoosier.

And when you are finished shopping for those special people in your life, take a vacation to one of our timeshare resorts.  These timeshare rentals are personally owned by Penny and can be exchanged for other resorts world wide.  You won't find better accommodations for the price!  Email us at cupenny@tds.net for more information.

We are adding items in all categories every week, so stop in often to browse our "new" "old" stuff!  If you cannot find what you are looking for, let us know; and we will search our pantry shelves.  There are many things still hidden from view.  And, if you find one of our listed items, that you wish to purchase, at a lower price on another site,  let us know and we will do our best to match the offer.  Now, let's shop!




No Account Required to Shop with our conventient Google Checkout payment service!

                                         Money Orders and Cashier's Checks also accepted.
Attention USA Buyers:  We ship to all USA addresses, including APO and US Terrirtories.
Attention International Buyers:  We ship internationally to Canada, Australia, and England.  If you are a Buyer from another country, please email cupenny@tds.net for details before ordering.
Attention All Customers:  Please visit our Shipping and Return Section for tips on selecting the best shipping options for your purchase.


WE SUPPORT OUR TROOPS!
ATTENTION, ALL CUSTOMERS: We are currently working on a program problem concerning our shipments by USPS. Hopefully, this will be cleared up in a few days and you will be able to use USPS for shipping.  In the meantime, on all orders we will determine if there is a more reasonable shipping rate with USPS than with UPS; and give you the option of choosing between the two shipping services.